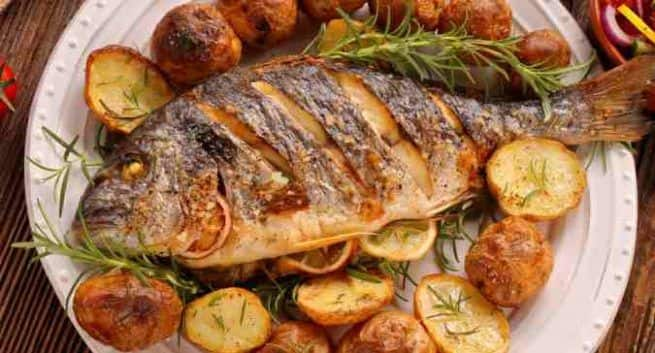 Pregnant and love eating fish? Then we have some good news: a new study said that regularly eating fatty fish during pregnancy could enhance the development of their unborn child's eyesight and brain function. This comes from a small-scale study led by Kirsi Laitinen of the University of Turku and Turku University Hospital in Finland, in the Springer Nature-branded journal Pediatric Research.
A mother's diet during pregnancy and breastfeeding is crucial during the first years of a child's life. Eating fish ensures that the mother's diet is rich in long-chain polyunsaturated fatty acids which help to shape the nerve cells that are relevant to eyesight and particularly the retina. They are also important in forming the synapses that are vital in the transport of messages between neurons in the nervous system.
Laitinen and her colleagues analysed the results of 56 mothers and their children drawn from a larger study. The mothers had to keep a regular food diary during the course of their pregnancy. Fluctuations in their weight before and during pregnancy were taken into account, along with their blood sugar level and blood pressure. Aspects such as whether they smoked or developed diabetes related to pregnancy were also noted.
The team then recorded the levels of nutritional long-chain polyunsaturated fatty acid sources in the mother's diet and blood serum and the levels in the blood of their children by the age of one month. Their children were further tested around their second birthday using pattern reversal visual evoked potentials (pVEP). This sensitive and accurate, non-invasive method is used to detect visual functioning and maturational changes occurring within a young child's visual system.
The subsequent analyses of the visual test results revealed that infants whose mothers ate fish three or more times a week during the last trimester of their pregnancy fared better than those whose mothers ate no fish or only up to two portions per week. So the researchers concluded that fish consumption by pregnant women is of benefit for their unborn child's development.
Word of caution: 
But keep in mind that you need to be cautious with your seafood consumption to ensure that it doesn't harm your baby in any way. This is because some kinds of fishes, especially the large seawater ones, can contain traces of mercury which can lead to some serious conditions related to your baby's growth and development patterns.
So when it comes to eating fish during pregnancy, follow these rules:
Ensure that the fish you consume is well cooked and not raw. Raw or uncooked fish can expose the expectant mother to various parasitic or bacterial diseases which if passed on to the fetus can result in adverse consequences.
Avoid having large sea water fishes like swordfish, king mackerel and shark. Instead have fishes that are found in local ponds like rohu, catla, hilsa, surmai, pomfret  etc.
Avoid having canned fish as they are loaded with preservatives.
Last but not the least; include other sources of omega-3 fatty acid in your diet like flaxseed, yoghurt and eggs to compensate for your limited fish intake.