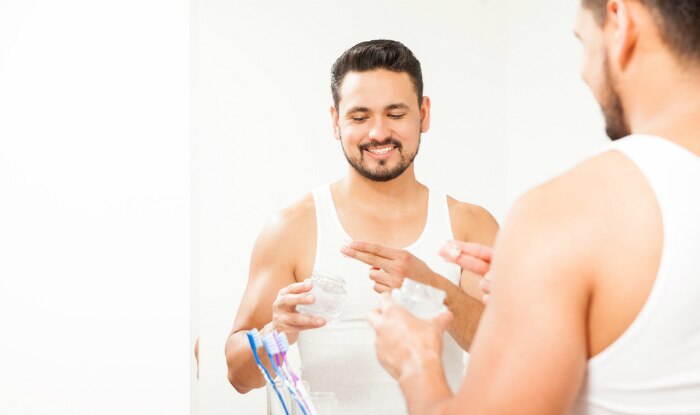 Men often don't have to do much to keep their skin looking young and their hair healthy. Their skin is thicker than a woman's skin and does not show signs of ageing as easily too. While this proves to be a blessing for them, they also need to keep in mind that a few habits will go a long way in ensuring that they have younger-looking skin for long. And while men may be blessed with better skin, they often have hair woes like balding, hair loss, etc more than women. But one ingredient that can counter both these problems and work wonders for your skin and hair is aloe vera gel. This natural ingredient is perfect for all skin types and does not really have side-effects which makes it a must-have in your daily routine. Here's why and how to use it.
Aloe vera gel is the gel obtained by cutting open the aloe leaf and scooping out the transparent substance. It has cooling properties that soothe the skin as well as your scalp and is perfect for summers as well as other seasons. Aloe vera gel also fights bacteria and keeps problems like itchy skin and scalp and breakouts at bay. It can also soothe inflamed skin and reduce redness caused by cuts and bumps. When used on the hair, it provides a protective layer that controls frizz and also prevents dust from settling on your tresses and scalp. Aloe vera gel also works on dandruff and reduces hair fall to a certain extent. With so many great benefits for both skin and hair, this home remedy should definitely be in your cabinet.
You can get aloe vera gel directly from the plant and even store for some days but if you do not want to take the efforts, you can also buy it from any store. Keep it in the fridge and use it every day on your skin and hair. All you have to do is take a dollop of the gel on your palm and then apply it on your face including under your eyes and beard and moustache. Take another dollop and then apply it on your hair and scalp. The gel is very light and absorbs into your skin and hair quickly so you do not have to wash it off. If however you find it to be a bit too sticky for your liking, do this process overnight and then wash your face and hair in the morning to get rid of the residue. Doing this every day will show you visible results in the texture of your skin and hair in a few days. This simple, fuss-free ingredient is perfect for men who do not like using too many things yet want to keep their skin and hair healthy.