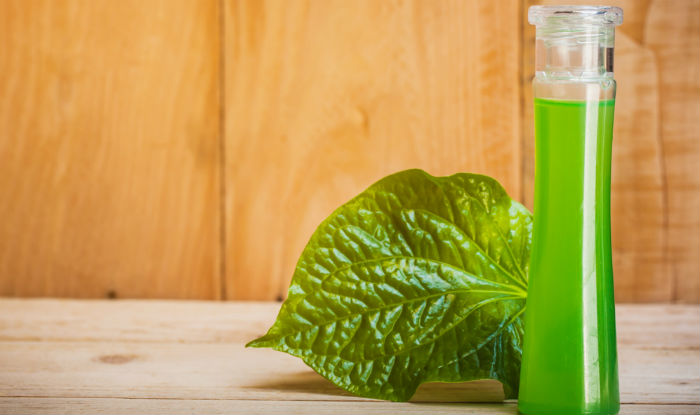 Betel leaves that are used in most of the religious ceremonies and also eaten in the form of a paan has some amazing healing health benefits. But did you know that these leaves also can be used in your skincare and haircare regime? Yes, the humble betel leaves are rich in vitamin C and have a lot of beauty benefits. Here are some ways in which this heart shaped leaf can make you look more gorgeous.
Reduces hair fall
Betel leaves are used in Ayurveda practice for hair fall-related issues, you too can use it at home to deal with your hair problems. You can make your very own go-to hair fall remedy by grinding some betel leaves with sesame oil to make an anti-hair fall hair mask. Apply this paste to all sections of your scalp and leave it on for an hour. Wash it off using a mild shampoo and towel dry your hair.
Gets rid of acne
Betel leaves have anti-inflammatory and anti-bacterial properties; you can use betel leaf if you have acne-prone skin. Take a few betel leaves and grind them to make a smooth paste. Add a pinch of turmeric powder and apply this on your face. Wash it off once it dries and pat your skin dry with a soft towel.
Calms rashes and allergies
The anti-inflammatory and soothing properties makes betel leaves the best thing to use on rashes and allergies. Applying betel leaf concoction will give you much relief. Boil 10 betel leaves, once the water becomes lukewarm, mix it in your bath water or directly use it to soak yourself in it to reduce the itching and swelling. 
Refreshes your breath
Do you suffer from bad breath? Betel leaves will come to your rescue to refresh your breath and kill germs in your mouth. You can either chew a betel leaf after your meals or boil some betel leaves in water and use this betel leaf decoction to rinse your mouth. This will not only refresh your breath, but it will also prevent tooth decay and strengthen your gums.
Bans body odor
Body odor can turn out to be an embarrassing problem in social situations, by using betel leaves you can kill the bad odor. All you have to do is add some juice of betel leaves or few drops of betel leaf oil to your bath water. Bathing with this betel-infused water will kill the odor-creating germs in your body and all kinds of unpleasant body odors.