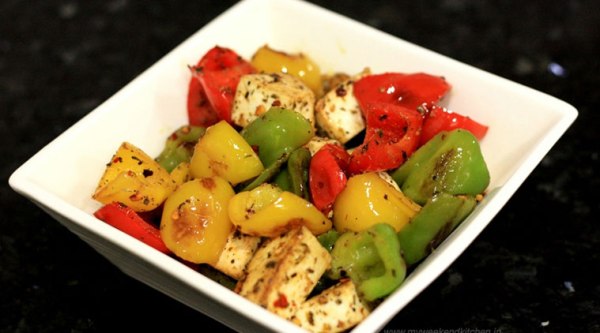 Paneer Capsicum is my "exotic in minutes' recipe! Do you often get surprise guests for dinner at home? It happens here quite often and while there are times pizza delivery is the only option, I try to keep that to a minimum.
For times like those I have recipes like this one – under 20 minutes. Paneer or cottage cheese has always been a special occasion dish on any Indian dinner menu and while most preparations take a long time, this one gets done in a jiffy!
The red, green and yellow capsicum (bell peppers) give a nice juicy, sweet and crunchy texture that compliments the softness of cottage cheese. This one is bound to impress and believe me your guests will never know that this was a less than 20 mins job.
Paneer Capsicum/ Cottage cheese with capsicum
Preparation time: 5 mins| Cooking time: 10 mins| Serves 4 as a side
Ingredients
1 big red, yellow and green capsicum each
200 gms paneer
1 tsp dried thyme
2 tsp dried mint
2 tsp oregano
1 tsp red chilly flakes
1 tsp pasta seasoning (I use leftover seasoning from Dominoes!)
Salt to taste
2 tbsp Olive oil
Method
* De-seed the capsicums and cut into approximately 1 inch squares
* Cut the cottage cheese/ paneer block into 1 inch cubes
* Heat oil in a non-stick pan
* Add the chopped capsicums. Saute for 5 minutes, till the capsicum is a little soft.
* Add all spices. Mix well.
* Add chopped paneer/ cottage cheese; mix well and cook for another 4-5 minutes.
* Serve hot as a side. You can also wrap it in chappatis/ tortillas to make cottage cheese wraps!