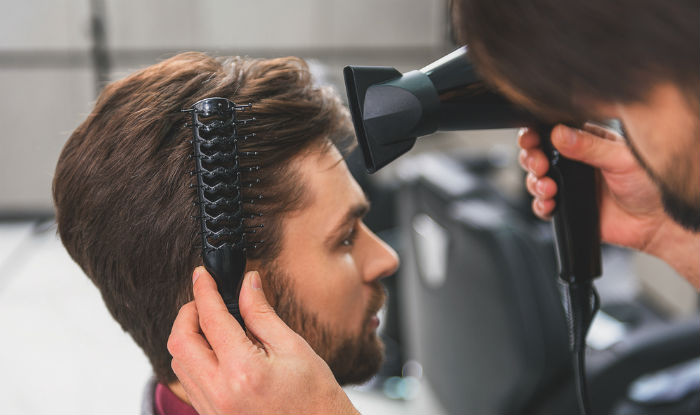 Do you struggle with your hair every single day? Though it might seem too much of an effort for guys to reach out for hair styling tools to keep their hair looking good, we assure you that it is definitely going to be worth your time. You do not have to go about experimenting with different hair styling tools, but using just a blow dryer will transform your hairstyle. Yes, it might add a couple of minutes more to your routine, but with this tool you can bid goodbye to all your hair-styling woes. If you think a blow dryer is an unnecessary grooming tool we share with you five reasons to start using a hair dryer.
Grooming routine on point
Yes, adding a single grooming tool can streamline your grooming routine. Though you will be spending a couple of minutes more in front of the mirror, it will be worth all the extra time. Your hair will look perfect throughout the day. So, even if you have plans to head out post work, you don't have to worry about your hair being unruly by the end of the day. And, do not worry, once you get the hang of using it, it will not seem daunting anymore.
Lays groundwork for styling
If you like using different hair products like the pomade and mousse, using a blow dryer before using these products will work in your favor. Towel-drying or air-drying your hair takes longer, but using a blow-dryer will minimize the time and also help you to get the most of your hair styling products. The hair product adheres to your blow-dried hair and shape your hair well.
Your hair needs a little bit of help
Most women put in a little extra effort to keep their hair looking perfect. Men, on the other hand are okay with carrying the mess of unruly hair. You will discover that with this hair tool your hair will start looking better. Do you really think those handsome hunks on the red carpet have naturally good hair? No, even the nicest hair needs a little bit help!
Get sleek and straight hair
Have you always wanted straight hair, but never thought about trying permanent chemical treatments to straighten them because of the damage scare? Well, you would be surprised to know that a blow dryer will give you sleek and straight hair. Blow dry your damp hair using a small round brush using long strokes to get sleek hair. Follow it up with some pomade or hair spray to keep them looking good.
Boost your confidence
You will be amazed to see a boost in your confidence level, once you manage your hair. Yes, taking control of the hair on your head can incredibly boost your confidence. Another bonus of spending a few extra minutes on your grooming routine means you will also receive many compliments for maintaining your hair well.